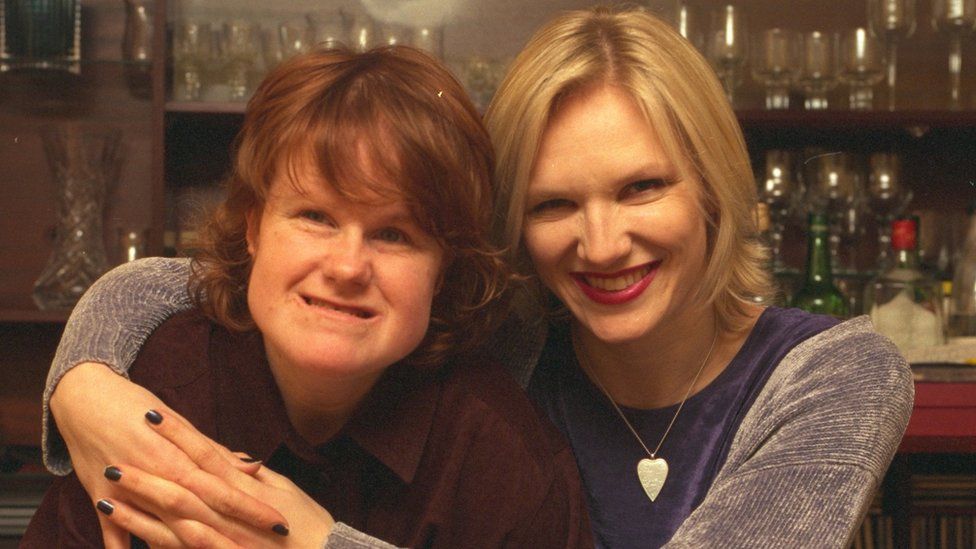 DJ Jo Whiley has said she is living "a nightmare" after being offered a Covid vaccine before her sister, who has a learning disability and diabetes.
Her sister Frances has since tested positive for coronavirus after there was an outbreak in her care home.
The BBC Radio 2 presenter said she would give up her vaccine for her sister "in a heartbeat".
The vaccines minister said people with a learning disability in residential care were now starting to get the jab.
People with diabetes, as well as those with a "severe or profound" learning disability, are in priority group six for the coronavirus vaccine.
Those in priority groups five and six - which include the over-65s and people considered clinically vulnerable - started to be invited to book a jab on Monday.
Nearly six out of every 10 people who died with coronavirus in England last year were disabled, according to figures from the Office for National Statistics.
For people with a medically diagnosed learning disability, the risk of death involving Covid was 3.7 times greater for both men and women compared with people who did not have a learning disability.
'Overlooked'
On Thursday night, Whiley, 55, said she got the call she had been "dreading", when she found out there had been an outbreak of Covid in her sister's care home.
"I feel like I'm living through a nightmare," she told BBC Radio 4's Today programme. "The whole weekend has been awful. It's been really, really difficult."
"And then ironically I got a message to say that I was due to have my vaccine before my sister, who's got learning disabilities and underlying health conditions," she said.
The DJ added that she didn't know why she had been invited to get the jab, but said it was possibly because she was deemed a carer for her sister, who is 53 and has the rare Cri du Chat genetic syndrome.
Unpaid carers for the elderly and people with disabilities are in priority group six.
"I would give up my vaccine in a heartbeat, if I could, for my sister and any of the residents in her house to have their vaccine… it does not feel right," she said.
Whiley said she wanted to speak up for people like her sister "who have been overlooked".
"This happens so often - people with learning disabilities are neglected, they haven't got a voice," she added.
Since the interview, Whiley has found out Frances has tested positive for the virus.
In a tweet, she said her "worst fears" had been realised, with the prospect of a vaccine so close.
"Feel like I'm in a terrible film with bad plot twists," she said. "She's ok so far... Everything crossed."
Feel like I'm in a terrible film with bad plot twists. Late last night I got a call to say that Frances, my sister, had tested positive & has COVID. Our worst fears realised after keeping her safe for a year & with a vaccine so close... she's ok so far.. Everything crossed 🤞💜 pic.twitter.com/ia5Lr2z2Xv

— Jo Whiley (@jowhiley) February 16, 2021
The BBC is not responsible for the content of external sites.
View original tweet on Twitter


The charity Mencap is calling for everyone with a learning disability to be in at least priority group six for the vaccine.
Chief executive Edel Harris said the current limitation to people with a "severe or profound" learning disability was "arbitrary and subjective".
"[That definition is] not used by the medical profession," she told Today.
"We think GPs, who are under enormous pressure at the moment, are having to use their discretion."
Adults with Down's syndrome, which usually causes some level of learning disability, are in priority group four because they are considered clinically extremely vulnerable.
Asked about Frances's situation on the same programme, the government's Vaccines Minister Nadhim Zahawi said: "The case you've just described to me - living in residential care with a learning disability - is now being vaccinated in category six. We've just embarked on category five and six - that is happening now so that case will be picked up.
"Of course we will need to wait 28 days after infection for us to be able to go back - hence why for residential care we go back four times to deliver the two doses because sometimes people can't be given the first dose until the infection is over after 28 days."